What is Pink Eye?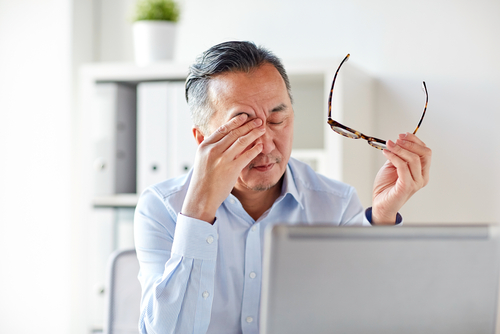 Are you suffering from uncontrollable itchiness and redness in your eyes? If they're watering a lot and allergies aren't the cause of the irritation, you could have pink eye.
Keep reading to learn about this common eye condition and what you can do if you think you have it.
Pink Eye is Conjunctivitis
Pink eye is a mild form of conjunctivitis caused by bacteria, a virus, or an allergic reaction. It's called pink eye because it causes your eye to appear pink.
Conjunctivitis happens when the conjunctiva becomes irritated and inflamed. The conjunctiva is a thin transparent tissue that covers the white of your eye.
Symptoms of pink eye include:
Redness in the white of your eye
Increased tear production
Eye discharge and crusty lashes, especially after waking up in the morning
There are also more severe symptoms that need medical attention. Call your eye doctor if you experience any of the following in addition to the more common symptoms:
Yellow or green eye discharge
Your eyelids are stuck together in the morning.
Pink Eye is Contagious
Pink eye is contagious and can spread from person to person. It's a common concern in schools and daycares, and children who get it will need to stay home until it has cleared up.
It is rarely severe and isn't likely to damage your vision. But it's good to be able to identify pink eye and treat it appropriately.
Listen to your doctor and follow their instructions to clear it up and prevent it from spreading.
Types And Treatments
When you get treatment, your eye doctor will ask about your symptoms and give you an eye exam. They may also remove some fluid from your eye to test it.
Lab testing will help determine what is causing your pink eye. Knowing the cause will help your eye doctor find the best treatment for your pink eye.
Viral
Viral infections are the most common and most contagious type of pink eye. It usually starts in one eye, causes a lot of watery discharge, and spreads to the other eye after a few days.
Also, if you have viral conjunctivitis, you may notice you have swollen lymph nodes. The simplest lymph nodes to feel are in your neck.
Viral conjunctivitis is a similar virus to the one that causes the common cold. Like the common cold, this virus has to run its course.
There isn't a specific treatment for it, but lots of rest will help you get healthy again. It is also essential to avoid spreading the virus to anyone else.
Bacterial
Bacterial infection also begins in one eye and spreads to the other. But with the bacterial pink eye infection, you'll notice a lot of mucus coming from your eye.
Prescription antibiotic eye drops, ointments, or pills will treat the bacterial infection. The infection should improve within a week of starting antibiotics.
Prevent It From Spreading!
It is important not to spread conjunctivitis to other people. Here are some tips to avoid spreading it to others in your house.
Keep your eyes clean, splash water on them and wipe dry with a tissue or cotton ball.
Wash your hands, especially before eating and after touching your eyes
Wash and change your pillowcases every day until the eye infection is gone
Avoid contacts and eye makeup until it has cleared up.
Stay home until your symptoms are gone.
Are you concerned that your red, itchy, irritated eyes are more than allergies? Schedule an appointment at Pinke Eye Center in Shelton, CT, today to check for conjunctivitis.