3 Healthy Tips To Reduce Dry Eye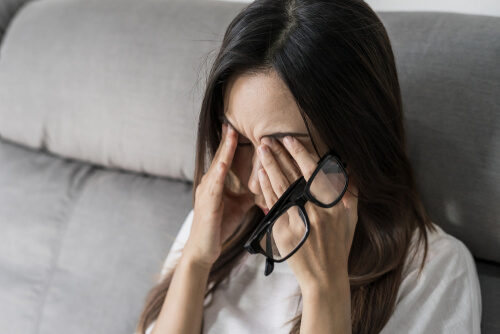 If you have chronic dry eye, you may be searching for ways to relieve it, and for good reason. Dry eye causes irritation, pain, and redness in the eyes. This can make you frustrated, distracted, and less confident. 
There are several ways that the Pinke Eye Center can help you deal with your chronic dry eye. If you want to manage your symptoms, check out these 3 healthy tips to reduce dry eye! If they don't do the trick, schedule an appointment with the Pinke Eye Center!
Eye Drops
If you have been suffering from chronic dry eye for a while, you've realized that eye drops are your best friend. Artificial tears are a great way to get quick relief in a pinch. Did you know there are different types of eye drops? It matters what kind of eye drops you buy!

For example, one thing that matters is the drops "viscosity". Viscosity refers to how thick the liquid is. Eye drops with a low viscosity will provide fast relief but don't last as long. Eye drops with a higher viscosity are thicker and provide longer relief. When using eye drops with a higher viscosity, you may experience blurry vision for a few minutes.

It is also important to know how to apply eye drops. When applying them, don't apply them on the surface of the eye.

Instead, you should pull down your lower eyelid to form a pocket.  Be sure to always wash your hands before and after and never touch the tip of the applicator.

Eye drops and artificial tears are effective options for treating dry eye. They can temporarily reduce the frustrating symptoms that make dry eye difficult.
Add Omega-3 Into Your Diet
Omega-3 fatty acids have a positive impact on tear quality and production. Adding omega-3 fatty acids into your diet can also help reduce inflammation. If you want to incorporate more omega-3 fatty acids, you can take supplements. You can add foods like palm oil, salmon, flaxseed, chia seeds and walnuts to your diet as well.
Limit Outside Factors
Outside forces can have a large effect on your chronic dry eye. Being near smoke, dust, or dry air will cause your body's natural tears to evaporate. When this happens, your eyes are not properly lubricated. Changing your environment where possible will have a huge impact. Consider doing the following:

Wear goggles if you work in a dusty or sandy area. Particles in the air can irritate your eyes.
Buy a humidifier for your home if you live in a dry area. Air moisture will promote longer lasting tears.
Quit (or at least reduce) smoking.  Smoke can dry out your eyes, and has been linked to glaucoma and cataracts. Smoking is related to countless health issues!

If your dry eye is persistent, come into Pinke Eye Center in Shelton, CT for an appointment! We feature only the best dry eye treatments and can help you find relief. Schedule your consultation today! Nobody deserves to live with untreated dry eye.