Routine Eye Care – Questions and Answers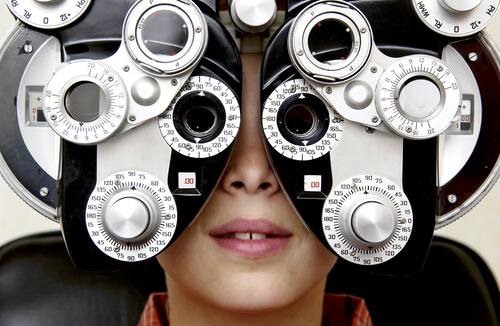 You've heard people say that you need to get routine eye care, but what exactly does that mean? Many people skip out of their eye health obligations because they do not have enough time, but some skip because they do not know what will happen during an exam. Avoid this eye exam-related anxiety and read up before you schedule your next appointment!
What's involved in routine eye care?
Many people are confused about what routine eye care is. Routine eye care consists of an annual eye exam, glaucoma test, and eye dilation. This allows the eye doctor to look for problems with your eyes. Early detection makes it much easier for your doctor to find a treatment that works, so this is important. Your eye doctor will also check your vision and change your prescription if needed. You doctor will recommend how often you should come in for an eye exam, but for most people, it is every two years.
How long does a routine exam take?
You have a busy life, so time is important to you – understandably, you don't want to sit in the office all day to get your eyes checked. A routine eye exam typically takes 45 minutes to an hour. While that might seem like a long time, a lot happens during that time. Your eye doctor will work to get you in and out as quickly as possible while still meeting all of your eye care needs. It is worth setting aside some time to ensure that you maintain your eye health.
Does my insurance cover routine eye care?
Most eye insurance policies cover the annual eye exam. In addition, they cover medical eye care, so if you have a problem, the office will bill your insurance. Eye insurance helps you save a great deal of money on your eye care. Make sure that you use yours so you can get the care you need without spending much money.
Should I wear my contacts to the exam?
If you wear contacts, keep them in for your exam. This will allow the eye doctor to evaluate your vision and check the fit of the lenses. You might have to take the contact lenses out for part of the exam, but your eye doctor will provide you with some solution and a case. Then, you can put them back in once the exam is over.
Can I drive home after my routine eye exam?
Your eye doctor might dilate your pupils during your exam. This will make your vision blurry and make you very sensitive to light. We recommend having someone drive for you. Bring some sunglasses along for the ride in case you need to use them. Also, if you wear contacts, bring along some glasses in case you have trouble getting your contacts back in. Then, you can bring your contacts home in a case and throw your glasses on.
Routine eye care is essential for your eye health. Keep your regularly scheduled appointments so your eyes will remain healthy for your lifetime. You only get one set of eyes, and it is up to you to take care of them. Call Pinke Eye Center in Shelton, CT today to schedule your routine eye examination!